Ricky Norwood (Fatboy, 'EastEnders')
Thursday, January 20 2011, 21:30 GMT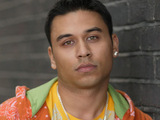 EastEnders
star Ricky Norwood has experienced a life-changing 12 months after making his debut in the role of Walford joker Arthur 'Fatboy' Chubb last January. A year after his first appearance on Albert Square, Ricky is now in the running for the 'Best Newcomer' prize at the National Television Awards, which take place in London next week. In the first of a series of NTA interviews,
DS
recently gave Ricky a call to hear about his time at
EastEnders
so far and why he deserves your vote.
How does it feel to be in the running for 'Best Newcomer'?
"It's a bit of a shock, but it's a great honour! It's amazing. When we add up Fatboy's time last year, it doesn't add up to a lot, but he's made an impact in the time that he has had. The fact that it's been recognised by the general public and my peers is absolutely amazing to me - it's quite baffling, but it's great!"
What would it mean to you to win the award?
"Awards are a recognition of all the work that you've done in the last year, and for me personally, not only the last year but every year that I've been training, working in plays and trying to build up my repertoire as an actor. It would be a great culmination of all that stuff. Also, it's a National Television Award - it's not a Soap Award. I love all the soap award ceremonies, but this is across TV in general - across the whole spectrum. To have been nominated for something like that is just gobsmacking, really! It's hard to describe."
You're up against Paula Lane from Corrie, Olga Fedori from Holby City and Marc Silcock from Emmerdale - what do you think of the competition?
"I think everybody's got a chance. I wish them as much luck as people are wishing me. I know how it is to be a newcomer coming into an established show and trying to make a mark, so I definitely wish them all luck. I haven't met them before, but I'm looking forward to meeting them on the night."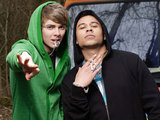 If you had to give your plea for why people should vote for you, what would you say?
"All I would say is vote if Fatboy has made you laugh or chuckle, if Fatboy has surprised you or if he's changed your opinions of him. A lot of people say to me that when Fatboy first came into
EastEnders
, people didn't like him. But over a period of time, some people's views have changed and they've said, 'Actually, I do like him!' So if Fatboy has changed your opinion between the first time he showed up and now, I'd say vote for me! But all of us are strong candidates and I wouldn't be totally devastated if they didn't!"
Are there any particular scenes featuring Fatboy that you'd like people to bear in mind as they decide who to vote for?
"Well, my most significant week on
EastEnders
so far has been when me and a couple of the other younger characters went to the woods. We basically had a whole week of storyline, and that was my first full week - appearing in Monday, Tuesday, Thursday and Friday's episodes. I got to play so many different emotions in that week - Fatboy even got his first kiss in the woods. Also, recently there was a scene with Kat and Alfie where Fatboy and Mercy brought them a cake, and you could kind of see that sensitive and caring side of Fatboy. I think Fatboy is trying to improve himself at all times. But my favourite week so far was when I was in the woods - we all had a really good time and I really enjoyed those episodes."
Are you looking forward to letting your hair down at the NTA ceremony itself?
"Absolutely! I'll be able to let my hair down and maybe even take off my shoes, because my house is not that far away! (Laughs)"
Do you think EastEnders is in with a good chance for the 'Best Serial Drama' prize this year?
"Absolutely.
EastEnders
are always forward-thinking, they always push the boundaries and they always outdo the previous year. We've had an absolutely great year - we had the live episode, the great episodes where Peggy and Stacey left, and we've got some really talented people within the cast. Being here for the year that I have, I've learned a hell of a lot and I continue to learn loads."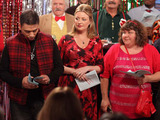 Have you enjoyed the chance to show a different side to Fatboy recently - like in the scene with Kat that you mentioned?
"I think Fatboy will always be the joker of the pack, but it's just great that when I have scenes with Dot, or scenes like the one with Kat, that I get to show that different side. It's good to show that he's not just all about the slang and not all about the hype. Fatboy is an intelligent character - he knows when he's putting on the slang and he knows that's a front. When he speaks to Dot or Mercy on their level, you see that different side to him and the whole 'street' thing drops quickly. Instead, you see the boy that he really is - the sensitive boy that wants to be caring and wants to look after people. But he thinks that in the street and in East London, that isn't credible and he might get beat up or slagged off for acting like a wuss. So that's why he puts on that front. But I love surprising the audience, so the more they give me scenes with June Brown or with Jessie, the better - it's great for me and great for the character."
What's in store for Fatboy in 2011?
"There's going to be a lot more from me this year. I'd say just keep it glued! I think there'll be more sensitive times, but I do like surprising the audience, so I'll try to leave it as a surprise. But there is plenty of stuff coming up for him this year - keep your eyes peeled because I don't want to spoil it for anyone. I hope people will enjoy it when it turns up."
It's been a big 12 months for you - starting out on EastEnders: E20, moving over to the main show, and now you're up for 'Best Newcomer' - how would you sum it all up?
"It's been unbelievable, really. The journey that the character has been through and the journey that I've been through myself have both been so amazing. Obviously I have worked before, doing plays, a little bit of hosting and also dancing, but it's nowhere near as high profile as
EastEnders
. I think we've had a great year and to be there now is unbelievable. It's a great honour that they've kept me on and that they continue to keep me on."
> Click here to read more from Ricky Norwood in Soap Scoop
Cast your votes for the National Television Awards by clicking here. Ricky is nominated in the 'Best Newcomer' category alongside Coronation Street's Paula Lane, Holby City's Olga Fedori and Emmerdale's Marc Silcock.