Saturday, 7 April 2012
from their 7th album "Sugababes"
Thursday 5th of April 2012 06:16
Dancing on Ice
superstar Heidi Range surprised the public with her dance moves and new look on the talent show recently. The blonde beauty showcased a super tanned body (courtesy of
Beau Bronz
- the official tan sponsor of the show), and glittery make-up to compliment her dazzling skating outfits. The golden skin, sparkling lids and super glossed lips – she has come a long way since the original
Sugababes
. After talking to the Beau Bronz tanning people about Heidi at
their party last nigh
t, we were inspired to research how Heidi looks so hot!
Heidi, who has recently split from long-term partner
Dave Berry
seems to be getting over the heartbreak well, and quite frankly has never looked better. The singer always claims she is low maintenance and that her look can be achieved by anyone, as her must-have products are not over-the-top. We decided to put this to the test and sniff out the ice-skater's tried and tested products:
(1) LOréal Paris Telescopic Mascara, £10.99
Heidi has magnificent eyelashes, which she tells
The Mirror
, is helped by L'Oréal. "I was recently at an awards ceremony and someone asked if I was wearing fake lashes. It even makes me look wide awake when I have to get up at ungodly hours of the morning." At the VIP offices, we want an evening where we don't have to wear falsies…this may be our new wonder product! Click
here
to buy.
(2) MAC Blacktrack Fluidline, £14
The Sugababe likes to keep her eyes dramatic but simple at the same time, which is why she favours the 60s look, with cat-like eyeliner.
InStyle
caught up with the Liverpool lass and says she "loves MAC Blacktrack, and it lasts for ages." If you want peepers like Heidi's click
here
.
(3) Beau Bronz Self-Tan, £21.60
We all know that Heidi loves a bit of fake tan, and even more so now she has been bathing in it for weeks because of DOI (not literally – we hope). Every skater on the show is smothered in Beau Bronz, and we think it looks awesome. When we spoke with the singer, she told us this is the only tan she will ever use from now on. If that isn't an amazing recommendation, we don't know what is. Click
here
to grab a tan.
(4) Wella Shockwaves Shine and Hold Hairspray, £3.49
Heidi has always had BIG hair. From the Sugababes to DOI, the girl loves a backcomb. Speaking to
Now
magazine, the hottie reveals her secret hair weapon. 'My hair is naturally fine and poker straight, so I'm always trying to create big, curly waves. My favourite product is Wella Shockwaves hairspray, it's great for getting volume into the roots.' For HUGE hair, click
here
.
And if you wanna read more beauty posts, check out our
beauty reviews
.
Reggie Yates: my greatest mistake
Advice to broadcasters from the Radio 1 Chart Show DJ that he, quite literally, swears by

As told to
Graham Snowdon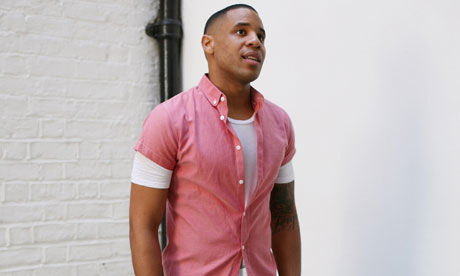 A couple of years ago I was hosting the Chart Show on
Radio 1
, and we had the Sugababes on. I've known them in every incarnation of the band, so this would have been at the point before Jade Ewen had joined, to replace Keisha Buchanan.
We were in the studio having a bit of a chat while a song was playing and Amelle [Berrabah] came over. She'd lost a lot of weight and her figure had changed quite a bit, and when she turned round, I made a comment about how noticeable her bum suddenly was.
I'd really meant it as a compliment – I'm of Ghanaian descent and we like a big bum on our women – but she got all shy and started play-punching me a bit, saying "Shut up Reggie, you're embarrassing me."
We carried on joshing until the producer came over and told me I only had 30 seconds before we were back on air, and I needed to stop messing about.
I stopped to look at the script and then Amelle turned around again, and I sort of carried on where I'd left off. I was still in silly mode when I faded up the mic and said: "You're listening to the official chart ..." And at that point I said "… and we have had
shitloads
of text messages …"
I stopped and looked up, and everybody else was staring at me. It was the first time I've ever sworn on air.
The protocol in that situation is that you apologise, you do it as a reflex. Luckily, I got away with it, because the reaction seemed to be that it was really funny. I think people could tell that I just hadn't been thinking. Nobody was offended, so that was good, but it was an awful moment. It's never happened since.
I do like a bit of banter with the guests before a show. For me it's about relaxing them, that's where the fun stuff starts happening. Even if I've only got 10 minutes with someone while they're putting their mic on, I'll do everything I can to try and calm them down. I've yet to have someone who hasn't responded to it really.
If I had any advice to give to aspiring broadcasters, obviously it would be not to swear! But also, be yourself. My favourite broadcasters are Davina McCall and Jonathan Ross. They are perfect examples of just being natural on air. Nobody can quite duplicate what they do because of that.
In broadcasting there is a line, and I think the best presenters are the ones that might occasionally dare to go over it, but still find a way to make things OK. That's a skill in itself.
Reggie Yates presents
Is Mum Enough?
on Radio 5 Live at 12pm on Easter Monday.