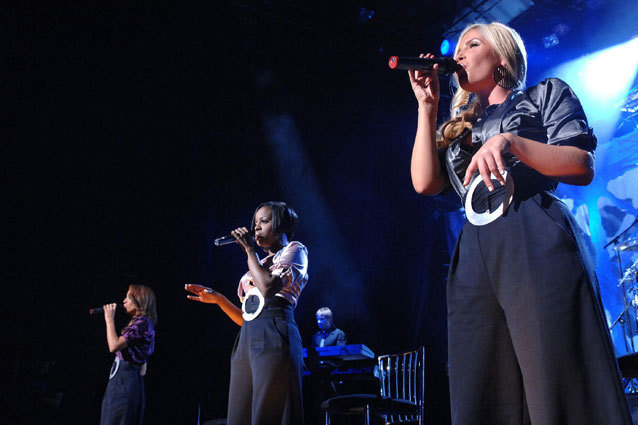 Daniel Deme / WENN
Renowned for changing their line-ups quicker than most groups change their underwear, UK girlband Sugababes have almost made
Fleetwood Mac
look like the picture of stability since bursting onto the pop scene with the brilliant "Overload" back in 2000. In the week that the original trio finally released their comeback single and the last all but admitting that the game is over, here's a look at each of their five incarnations from worst to best.
Jade, Amelle & Heidi (2009-2013)
After drafting in former Eurovision entrant Jade Ewen to replace the only founding member, Keisha Buchanan, the final Sugababes line-up became the complete antithesis to everything that the first stood for. Jumping aboard the 'fun in the club' Europop bandwagon, their one and only dismal studio effort, the anything but Sweet 7, saw them transform into shameless hit-chasers. While they spent their last three years focusing more on appearing in tacky reality shows (Dancing On Ice,Splash) than getting their act together. The recent news of their split comes as a relief.
Mutya, Keisha & Siobhan (2012-??)
Having left the band through a toilet window in 2001, Siobhan Donaghy and the rest of the original line-up decided to put their differences aside and join forces again last year. Only a handful of tracks from their unexpected reunion have emerged so far. But if they can keep their squabbling to a minimum, the triumphant Dev Hynes-produced hipster pop of "Flatline" and their classy take on Kendrick Lamar's "Swimming Pools (Drank)" suggests that MKS are more than capable of surpassing their former glories.
Heidi, Amelle & Keisha (2006-2009)
An era of two halves, the third Sugababes line-up picked up where the second left off with a string of brilliant pop singles ("Red Dress," "Easy," "About You Now"), a Greatest Hits collection which confirmed their girlband superiority and a second UK number one album with Change. But they hopelessly lost their way towards the end with a lazy cover of "Here Come The Girls," its dull retro-soul parent album, Catfights & Spotlights, and arguably the death knell for the group, "Get Sexy," a jaw-droppingly bad slice of trash pop which for reasons unknown sampled Right Said Fred's "I'm Too Sexy."
Mutya, Keisha & Siobhan (1998-2001)
Arriving at a time when the charts were flooded with girlbands hoping to fill the
Spice Girls
-shaped hole in the market, Sugababes managed to emerge as one of the most distinctive thanks to an intriguingly aloof image and an effortlessly cool urban pop sound produced by former Massive Attack and Neneh Cherry cohort Cameron McVey. But despite a wave of critical acclaim, 2000 debut
One Touch
didn't exactly set the world alight and following Donaghy's departure, the group were dropped from their London Records label.
Heidi, Mutya & Keisha (2001-2006)
One of the most remarkable career turnarounds in girlband history, Sugababes Version 2.0 went from the verge of extinction to the top of the UK charts in the space of six months. Comeback single "Freak Like Me," an inspired mash-up of Gary Numan's "Are 'Friends' Electric" and Adina Howard's '90s R&B classic, signalled their pop world-conquering ambitions immediately. But despite their new-found commercial success, the trio remained one of the most exciting and inventive acts around, forging a successful partnership with Xenomania before Girls Aloud had even formed and toying with everything from crunk to trip-hop to ambient electronica on their subsequent three albums.