Reggie Yates: my greatest mistake
Advice to broadcasters from the Radio 1 Chart Show DJ that he, quite literally, swears by

As told to
Graham Snowdon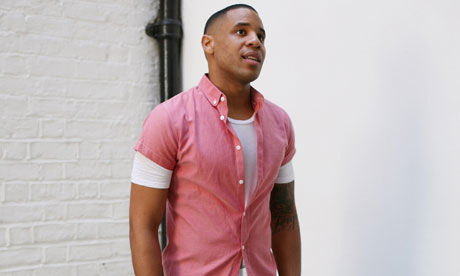 A couple of years ago I was hosting the Chart Show on
Radio 1
, and we had the Sugababes on. I've known them in every incarnation of the band, so this would have been at the point before Jade Ewen had joined, to replace Keisha Buchanan.
We were in the studio having a bit of a chat while a song was playing and Amelle [Berrabah] came over. She'd lost a lot of weight and her figure had changed quite a bit, and when she turned round, I made a comment about how noticeable her bum suddenly was.
I'd really meant it as a compliment – I'm of Ghanaian descent and we like a big bum on our women – but she got all shy and started play-punching me a bit, saying "Shut up Reggie, you're embarrassing me."
We carried on joshing until the producer came over and told me I only had 30 seconds before we were back on air, and I needed to stop messing about.
I stopped to look at the script and then Amelle turned around again, and I sort of carried on where I'd left off. I was still in silly mode when I faded up the mic and said: "You're listening to the official chart ..." And at that point I said "… and we have had
shitloads
of text messages …"
I stopped and looked up, and everybody else was staring at me. It was the first time I've ever sworn on air.
The protocol in that situation is that you apologise, you do it as a reflex. Luckily, I got away with it, because the reaction seemed to be that it was really funny. I think people could tell that I just hadn't been thinking. Nobody was offended, so that was good, but it was an awful moment. It's never happened since.
I do like a bit of banter with the guests before a show. For me it's about relaxing them, that's where the fun stuff starts happening. Even if I've only got 10 minutes with someone while they're putting their mic on, I'll do everything I can to try and calm them down. I've yet to have someone who hasn't responded to it really.
If I had any advice to give to aspiring broadcasters, obviously it would be not to swear! But also, be yourself. My favourite broadcasters are Davina McCall and Jonathan Ross. They are perfect examples of just being natural on air. Nobody can quite duplicate what they do because of that.
In broadcasting there is a line, and I think the best presenters are the ones that might occasionally dare to go over it, but still find a way to make things OK. That's a skill in itself.
Reggie Yates presents
Is Mum Enough?
on Radio 5 Live at 12pm on Easter Monday.