Ok so
DigitalSpy
Blogged it before me, never mind I will try and beat them next time ;-) ~JadeEwenFan
Jade Ewen to perform with Taio Cruz
Monday, February 7 2011, 09:58 GMT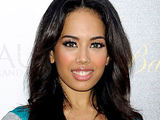 Jade Ewen has revealed that she has recorded a TV performance with Taio Cruz.
The singer, who is the newest member of the Sugababes, will duet with Cruz on his latest single
'Higher'
in an upcoming performance on Channel 4.
She tweeted: "Lookin forward to performing with taio cruz today! We're doing 'higher' for T4. Will let you guys know when it will be aired.. Xx (sic)"
Ewen later added: "Just finishing up with taio! Having fun at t4! :)"
The track, the UK version of which features Kylie Minogue, has been
snubbed
by a number of radio stations in favour of the US cut of the song, which instead features a rap by Travie McCoy.
'Higher' currently sits at number eight on the official singles chart.