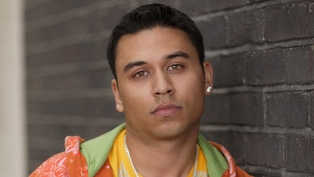 The 'EastEnders' couple are due to marry next week, with Mercy unaware of her best friend's true feelings towards her, believing that he is only marrying her to prevent her from being deported.
In an interview with Soaplife, Norwood said: "There's just a lot of awkwardness between them.
"They're both living at Grace's, Fatboy is sleeping on the sofa and it's all a bit uncomfortable."
Discussing Mercy's feelings on the day of their wedding, he explained that she is still "unsure" about the plan - while Fatboy forgets the trouble he could be in if they are discovered.
He added: "No, he hasn't thought about the consequences at all.
"He thought it would be as simple as getting a ring on her finger, but it's not. Immigration don't go away."
However, with Bunmi Mojekwu leaving the soap, Norwood said of his character: "It means he's going to get his heart broken. But maybe there will be another special lady who will love Fatboy for who he is.
"My girlfriend (Jade Ewen) watches the show and keeps saying, 'Mercy should love him!'"