Mars: 'I'm a Casanova in relationships'
Tuesday, October 5 2010, 09:36 BST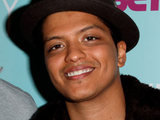 Bruno Mars has revealed that his latest single was inspired by his girlfriend.
The singer, whose current hit
'Just The Way You Are'
topped the charts last week, also believes he is a Casanova in relationships.
"I've been in a relationship before all this happened. I've got a good one," he told the
Daily Star
.
"I'm somewhat of a Casanova, though. I like the simple things like going for dinner."
The 24-year-old also revealed that he was inspired to write his
'Billionaire'
collaboration with Travie McCoy while working with the Sugababes in the UK.
He said: "I was in London working with Sugababes and found it so expensive for everything, even orange juice.
"I was frustrated walking around Shepherd's Bush with no money and started singing 'I wanna be a billionaire'."
Mars releases his debut album
Doo-Wops & Hooligans
next year.